"No one works as well as we all do together".
Come join our team and make a
TRAINING AS A COOK (m/f/d)
The Hotel-Restaurant Anne-Sophie is a place of togetherness. Here, people with and without handicaps work hand in hand. We value the uniqueness of each individual and can be different with each other – and achieve great things together. With us you can discover your humanity. Become part of our Anne-Sophie family.
you create dishes and menus
you plan menu sequences
you prepare dishes creatively and expertly
you have expert knowledge about nutrition rules and hygiene regulations at hand
you store and prepare food professionally
you calculate prices for food, drinks and menus
you select suppliers and purchase foodstuffs
The apprenticeship as a cook lasts 3 years. In the first year of your apprenticeship, you will attend vocational school in Heilbronn, and from the second year on, the school part of your training will take place in Bad Überkingen.
Why I'm training to be a chef at the Anne-Sophie Hotel....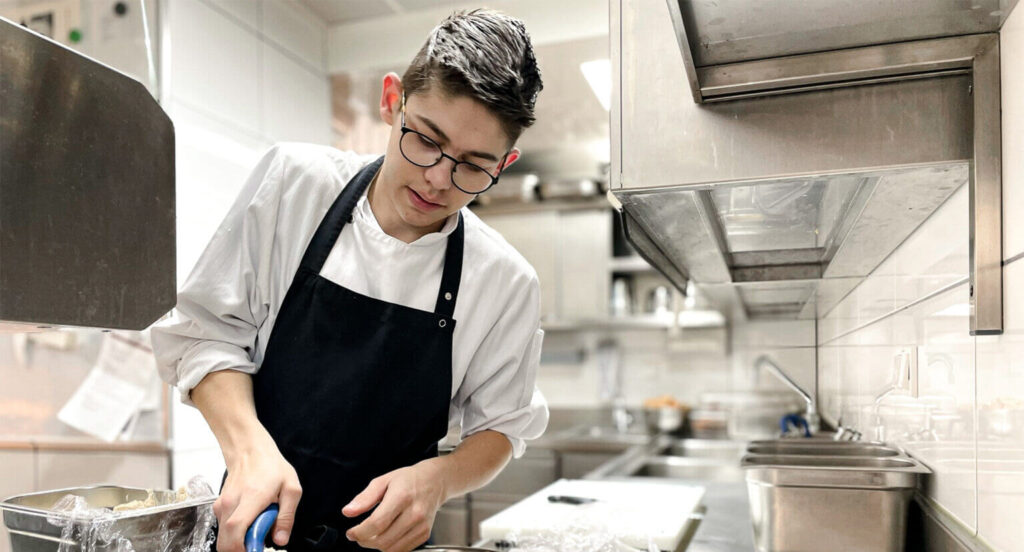 Once you are part of the Anne-Sophie family, we want to keep you. That is why the chances of being taken on by us after the apprenticeship are very high. If you would like to continue your education, as a trained cook you can, for example, take a master craftsman course, the Fachwirt im Gastgewerbe (IHK), the staatl. certified hotel manager or gastronome (hotel management school) or even specialized further training. We are also here for you on your further career path and will continue to support you.
Leisure time is at least as important to us as work. That's why, as a member of our team, you not only have a blast at work, but also enjoy plenty of benefits outside of your service. Look:
Still undecided if gastronomy is your thing?
You are welcome to do a trial internship with us first. Then you will experience the versatility of the profession first hand and can form your own picture of the work in the hotel. Feel free to reach out to us if you'd like to stop by sometime.